With only a small bathroom, there are many different designs with varied styles to refresh the space. These designs are completely changed in tone values, alternative wall treatments, and selection of suitable furniture, making it easy for homeowners to apply even when new constructing or renovating the bathroom.
Vanity is bathroom furniture composed of a cabinet and a wash-basin placed on top. Vanity is gradually becoming popular in modern-style homes. Whether your style follows the simple modern, elegant or luxurious design style like high-end hotel bathroom, if you would like to have a new look for your space, the suggestions in this article will not disappoint you: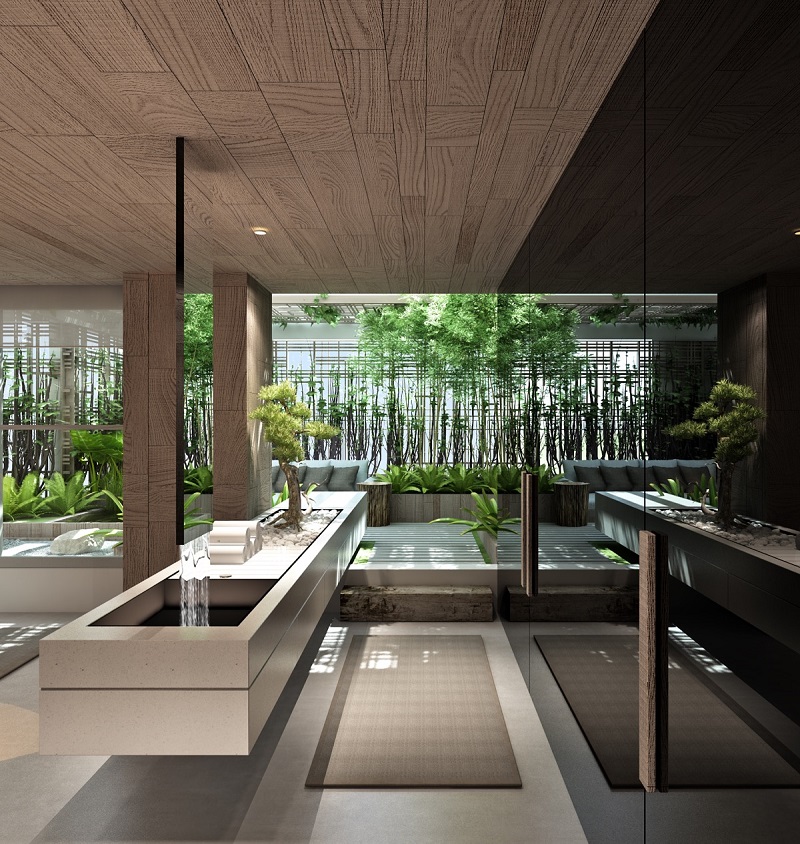 Inspired by nature, this bathroom model is sure to delight you, with the bathtub next to the garden and no separate door, giving you the feeling of being very close to the nature. Wash-basin is extremely modern, designed to be suspended above the ground, with flowing waterfall-style faucets.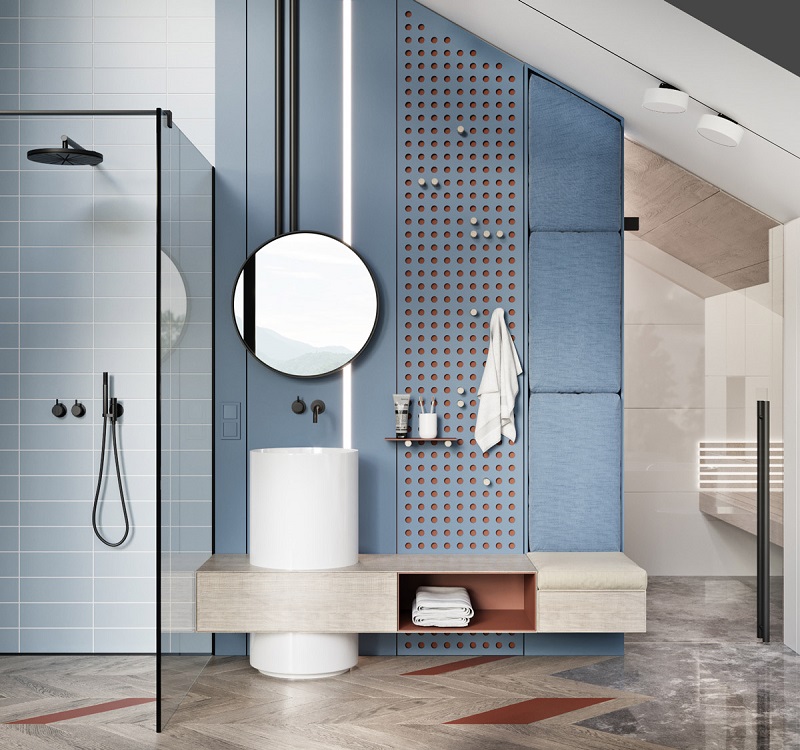 In the bathroom, a small change will make a huge impact, so to upgrade, you just need to change or add more wash-basin. With the above design, the wall is covered with blue paint that makes the design stand out, combined with the wash-basin straight through the center of the vanity, this vanity is also designed 2 in 1 with a towel storage compartment and a seat. If you have a strong personality, you can hardly ignore this design.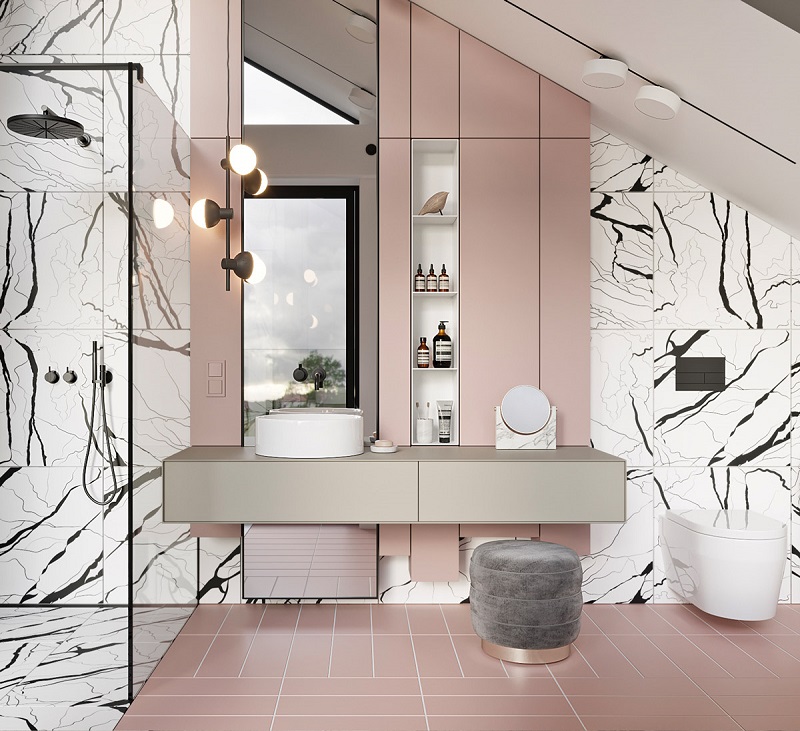 In recent years, the trend of designing bathroom with pink color of the 50s has started to become "bustling" again, this "candy" color expressing romance and full of femininity will enthrall the homeowner at first sight. If you are a fan of pink, you can immediately redesign your bathroom like the design above with the light pink wall, this neutral color is difficult to fade over time, it is minimalistic but not less modern, and homeowner can combine with gray wall-mounted wash-basin and vanity for overall harmony and sophistication. Along with that, there is a long mirror through the vanity illuminated by the makeup lamp making the bathroom become more attractive.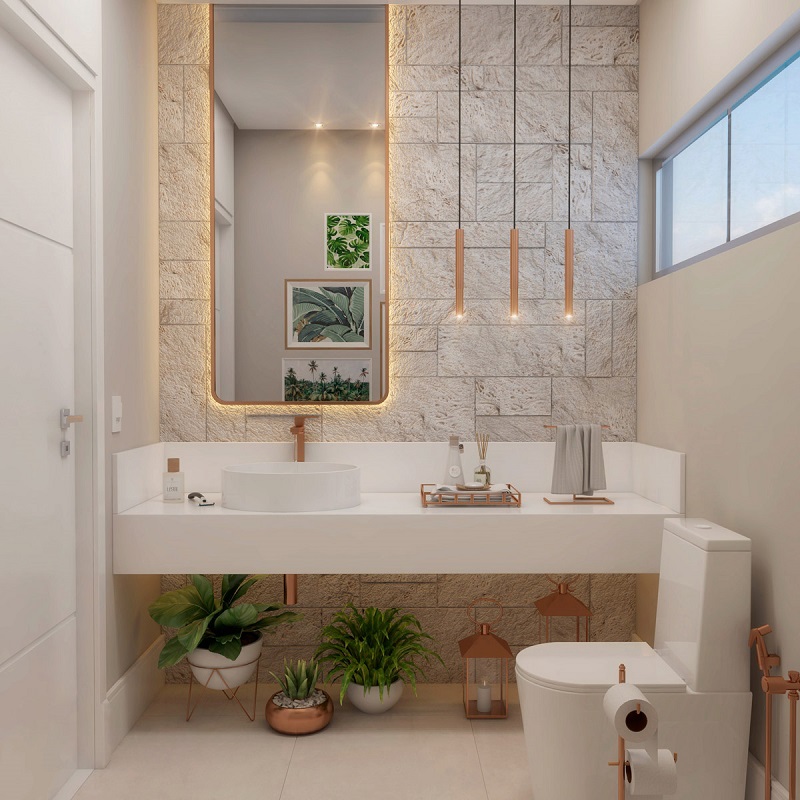 You will be surprised when you step into the bathroom, which is designed using all white tone from wash-basin, toilet to the floor, wall tiles. It can be seen that the homeowner does not ignore any details to add a little metallic copper to bring color to their white background. From the mirror, you can see the image of bathroom decoration, which uses plants to bring out the tropical theme throughout the room.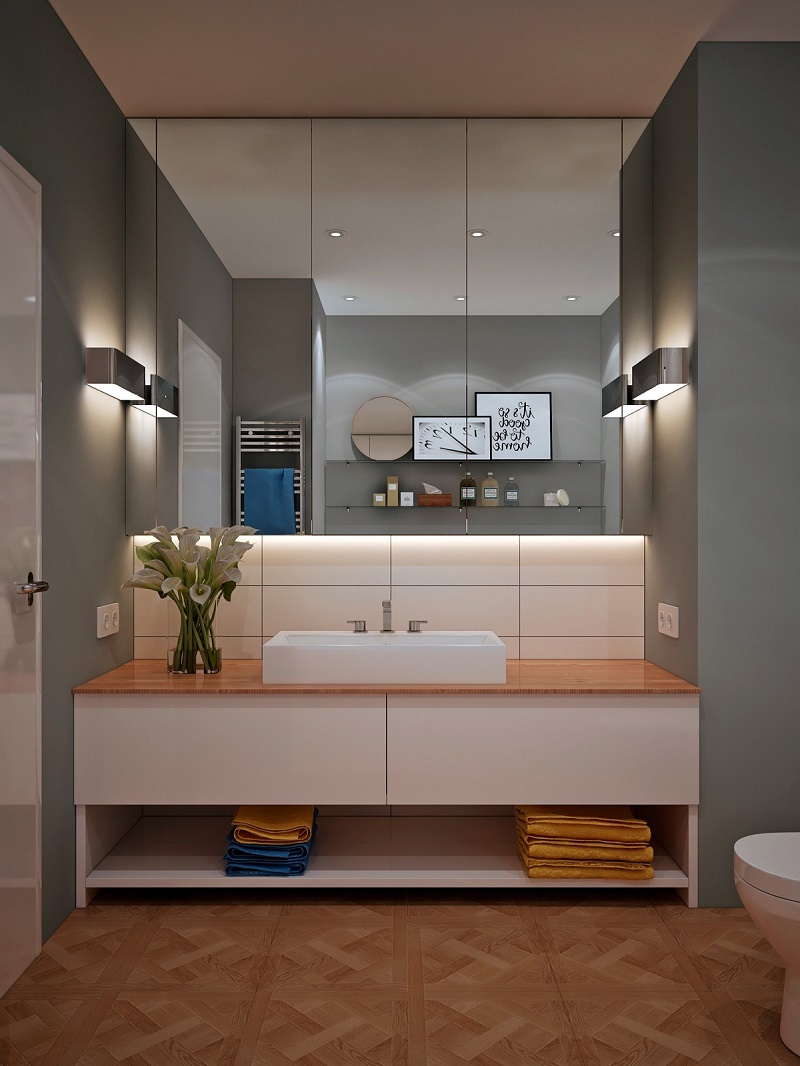 The space of wash-basin is often a place we rarely pay attention to take its advantages in interior design, but you can turn it into a great storage space for your towels. With the compartments you can help your bathroom much tidy, for a bathroom of a family, which is not too big, not too small, depending on the function that you arrange the compartments for convenient and tidy storage.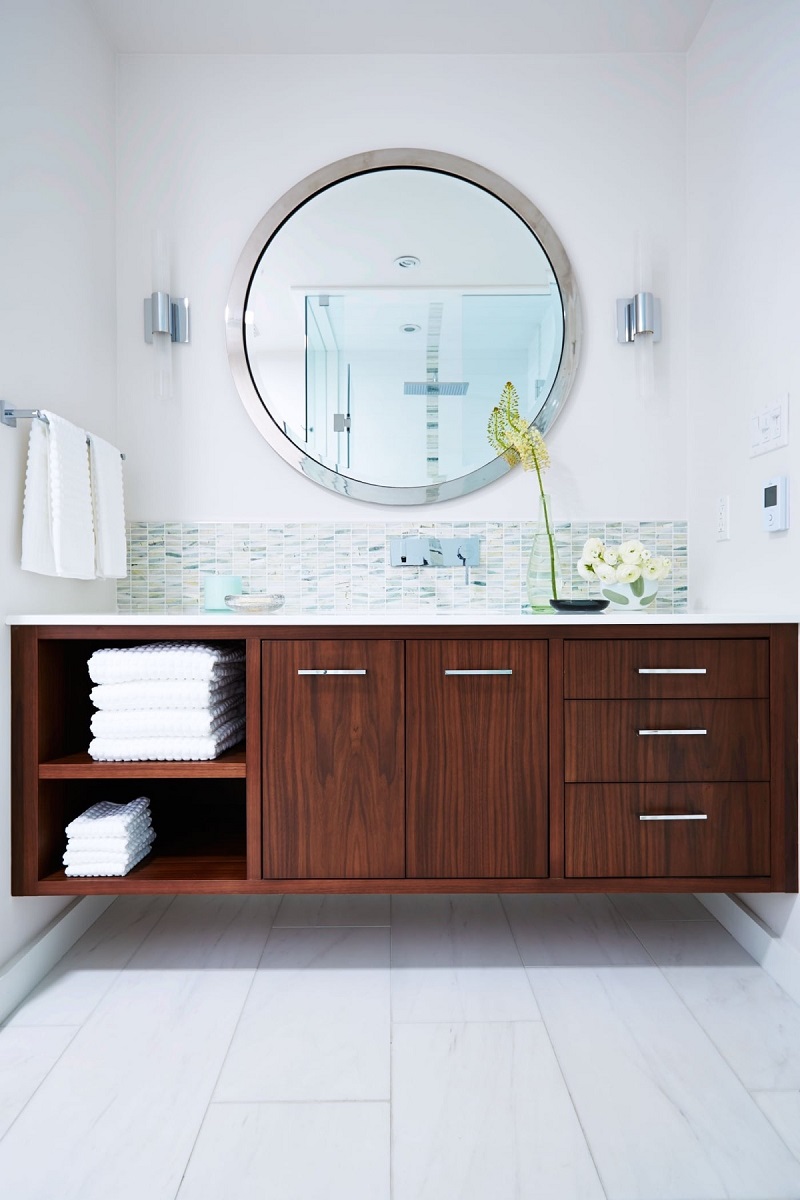 Despite changing through so many styles and trends, the bathroom made of wood is still the most favorite choice. Surpassing many different styles and new design trends, the bathrooms made of natural wood still occupy the hearts of many people.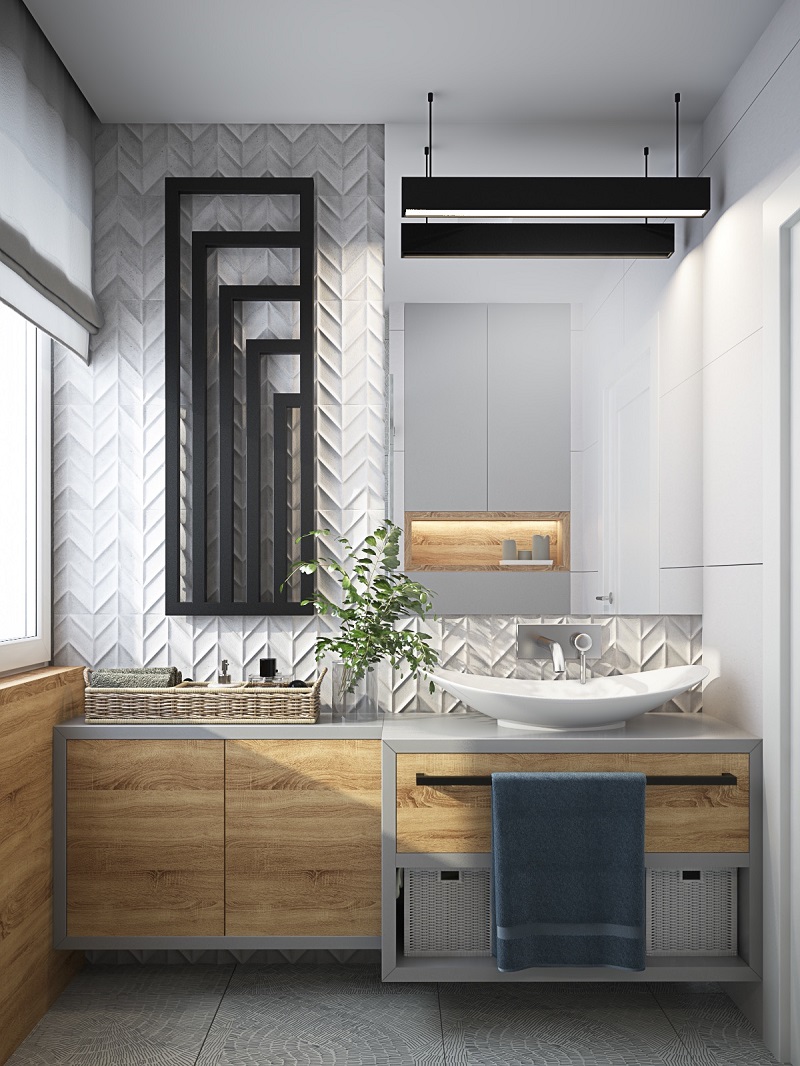 Instead of ordinary porcelain furniture, natural wood will bring a different beauty and sophistication to the bathroom space. The best way to get a natural feel is to use it in its original state, or to use a clearly textured wooden surface like the one above.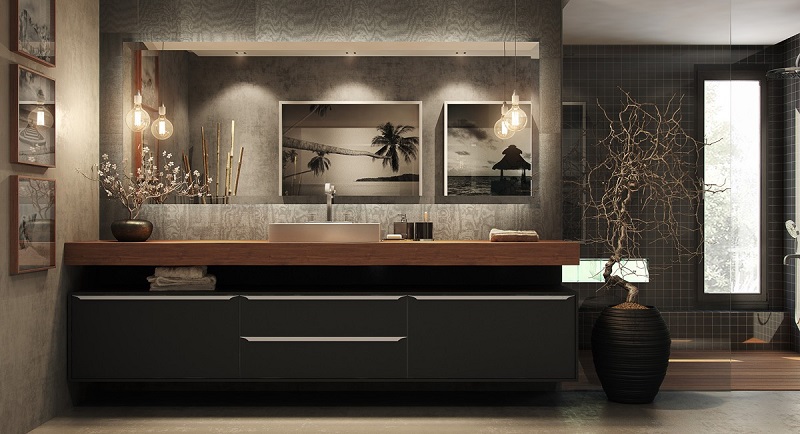 The materials chosen for this bathroom are the building materials of black artificial stone floor, high-quality porcelain wash-basin in combination with natural wooden vanity, luxury style with bathtub, cabinet, brick wall, although they are different each other, when being put together, they create a harmonious space.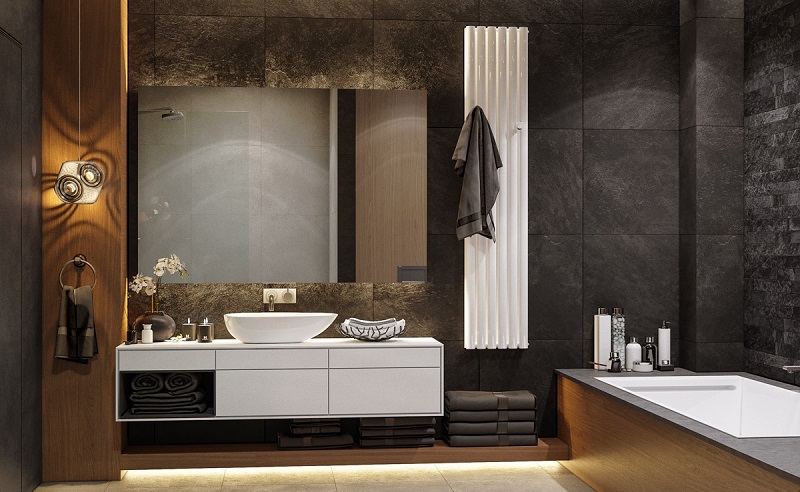 The bathroom has a large bathtub that provides a relaxing space for the owner. Using wood details as the most luxurious highlight.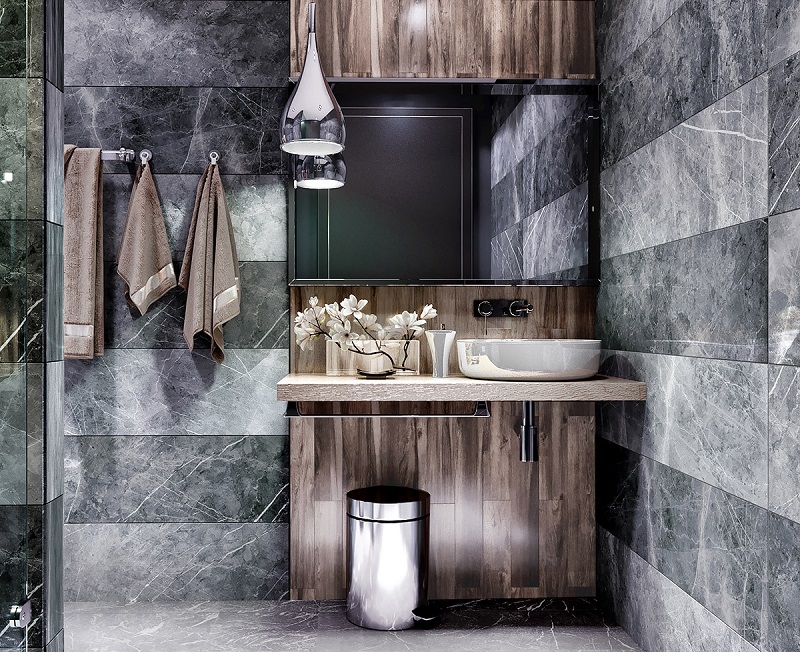 The marble bathroom space combined with the wooden wash-basin bring a very impressive overall, the nature of wood, the luxury of the marble brings great visuals to the viewer.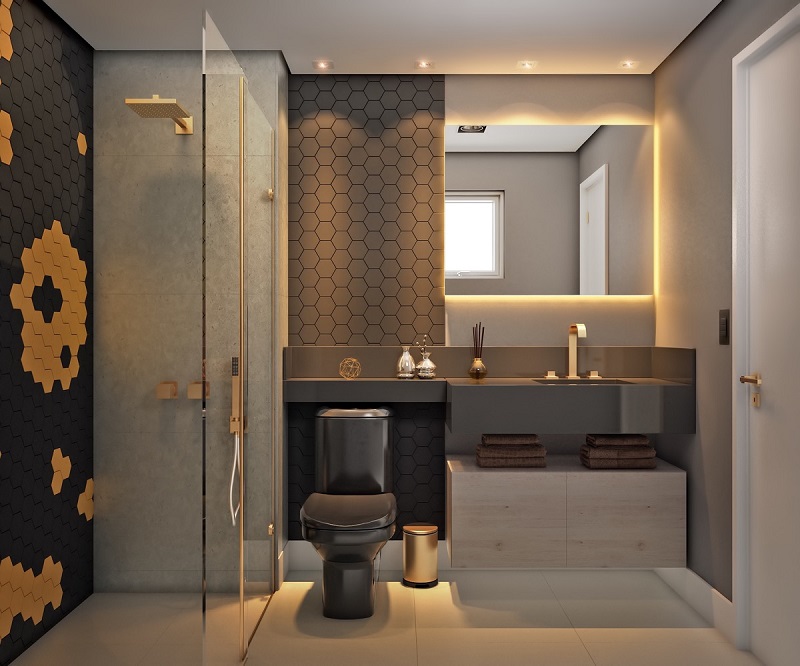 The difference of this space lies in the wall tiled with hexagonal gold-black pattern, the bathroom equipment is gold plated to help them stand out on the major dark gray background.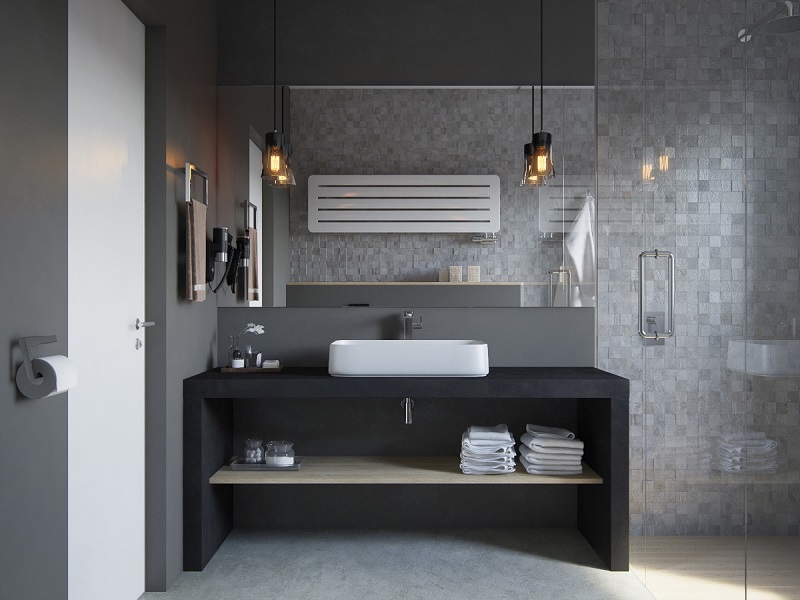 The space impresses when it is applied with neutral colors, so the room becomes elegant, extremely clean, decorative lights on both sides of the mirror help increase shimmer. Bathroom tools are arranged neatly and tidily to create sympathy for users.
Above are some bathroom designs that BellaHome suggests to you, the bathroom is a relaxing space where you soak every day after hard working hours, so it is necessary to pay attention to ensure to bring the perfect, eye-catching look to this space.
If you would like to have our consultancy or an interior design, kindly contact BellaHome:
Showroom: 111-113 Nguyen Co Thach, Sala Urban area, Thu Thiem, District 2, Ho Chi Minh City.
Hotline: (028)22534777-22536777.
Hằng Đặng.