You think the key to kitchen interior design lies in expensive and luxurious things such as high-end furniture, antique chandeliers, and paintings by famous artists? In fact, even the most subtle elements of decoration are only available if we form the most harmonious interior layout.
Three-tone kitchen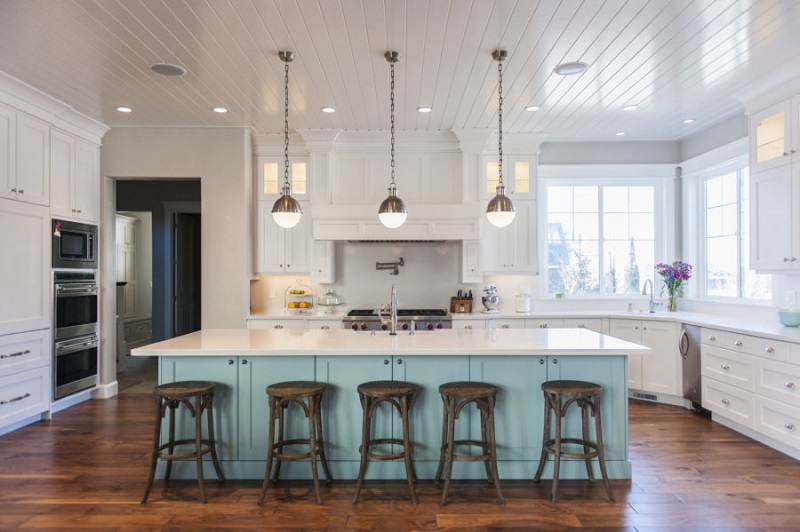 Two-color kitchen cabinets mean that the upper and lower cabinets have two different tones or the cabinet has one color and the kitchen island has a different color, this kitchen style has been dominating the interior design. It is predicted that in 2021, this style will continue to be hot without any signs of cooling. Therefore, designers automatically follow this trend rather than discard it.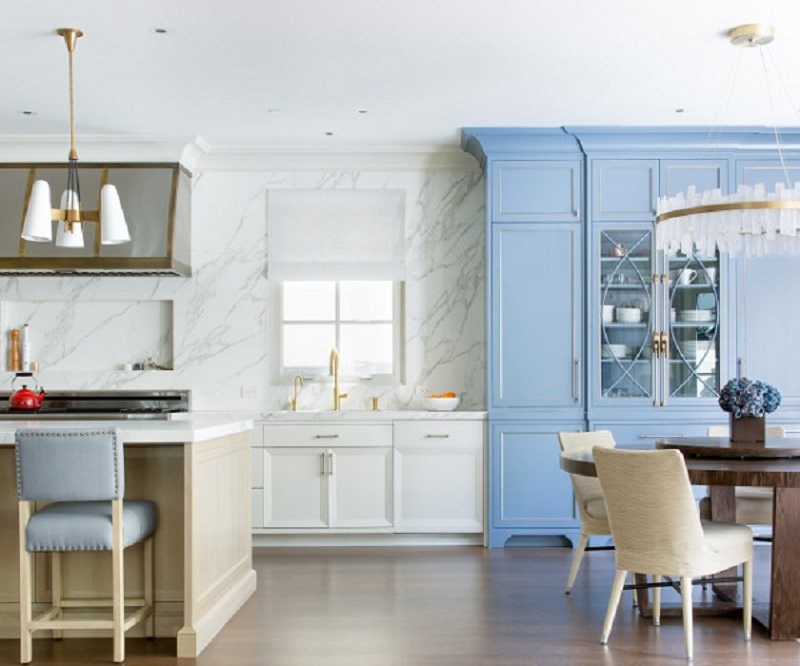 Here the architect has designed a beautiful kitchen with white cabinets, kitchen island with white surface and wood legs in the same color as the dining chairs. A blue hutch with a bar chair of the same color is arranged at the kitchen island. All are linked in a beautiful space.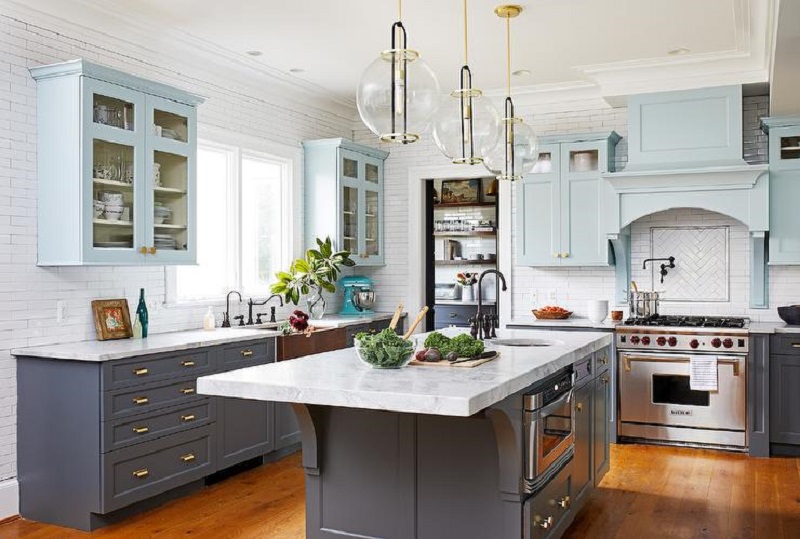 In this kitchen space, upper kitchen cabinets are light blue color, combining gray kitchen cabinets and a white kitchen island. The arrangement of appliances in the kitchen makes the kitchen more diverse.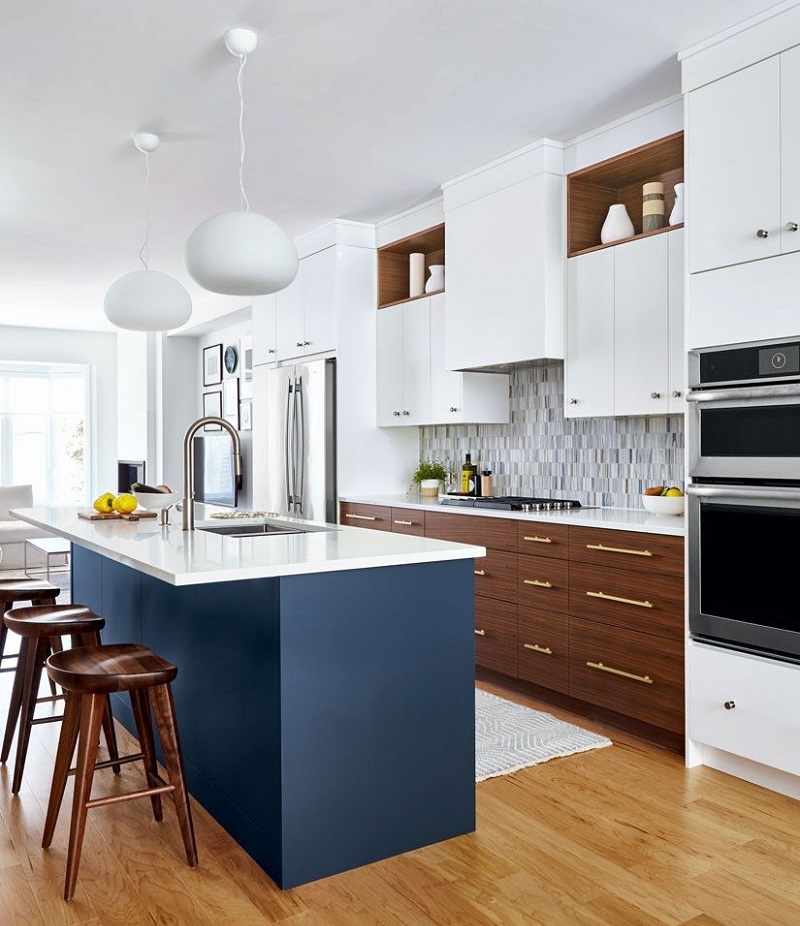 The architect has used the three-tone design in this kitchen, this is a photo of the hottest kitchen in 2020, cabinets are dark brown, while the kitchen island is dark green and the rest will be bright white, helping to expand the space more times.
Using turquoise cabinets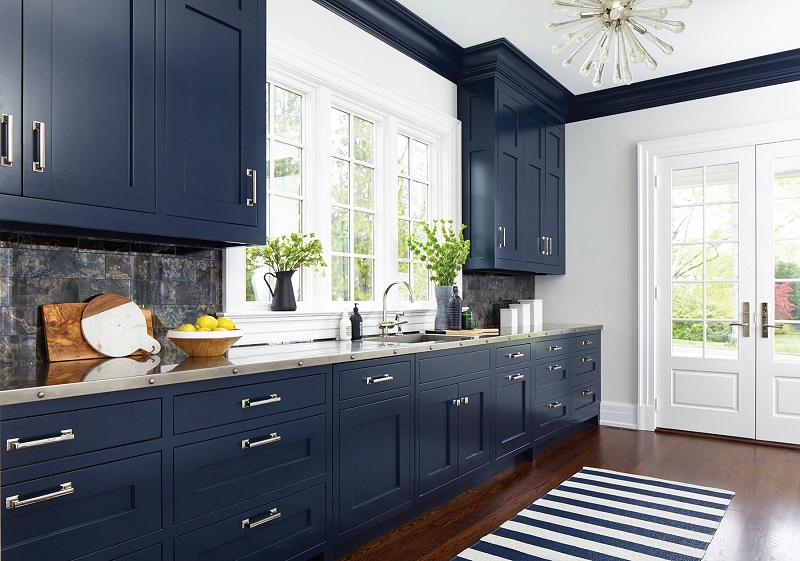 Blue is the color of 2020 but by 2021 it is still a trend, it is predicted that this color will be more prominent in the coming time. Both black and blue will remain the most popular colors.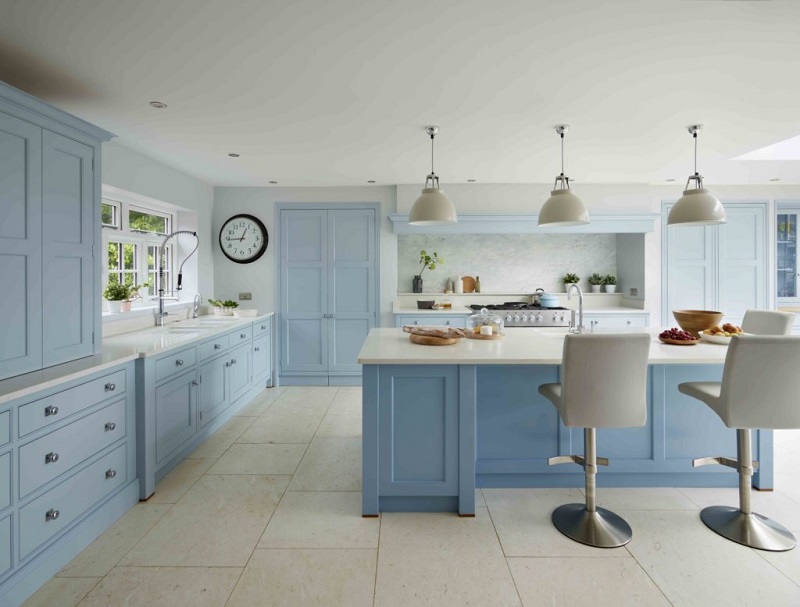 For example, turquoise will cover the entire kitchen cabinets, not just for a part or a kitchen island as in some designs. To balance these shadows, you should use neutral to warm white colors in equal proportions, These white colors bring a little warmth, making the space look cleaner and sharper.
Wood cabinets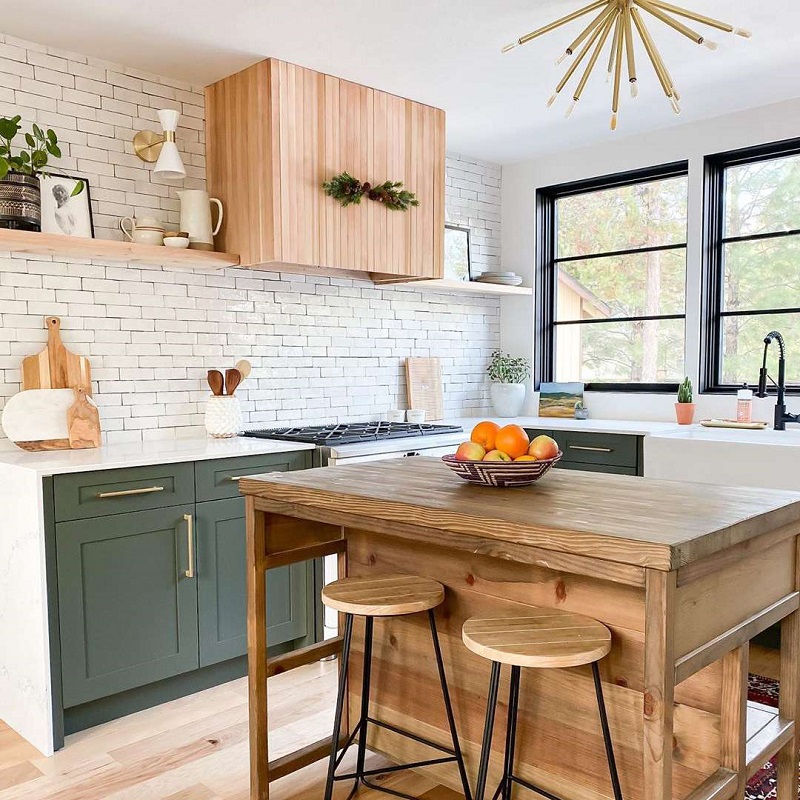 You will see that furniture made of wood will be regularly appeared in the interior design trend in the future, and we are certainly going back to the time when kitchen cabinets used wood materials.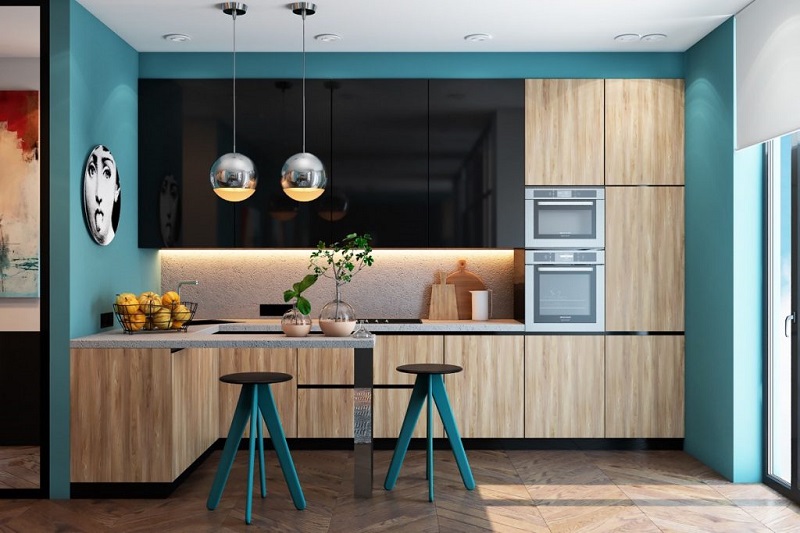 Under the hands of designers, artisans and carpenters, we can see how diverse and rich wood textures can be.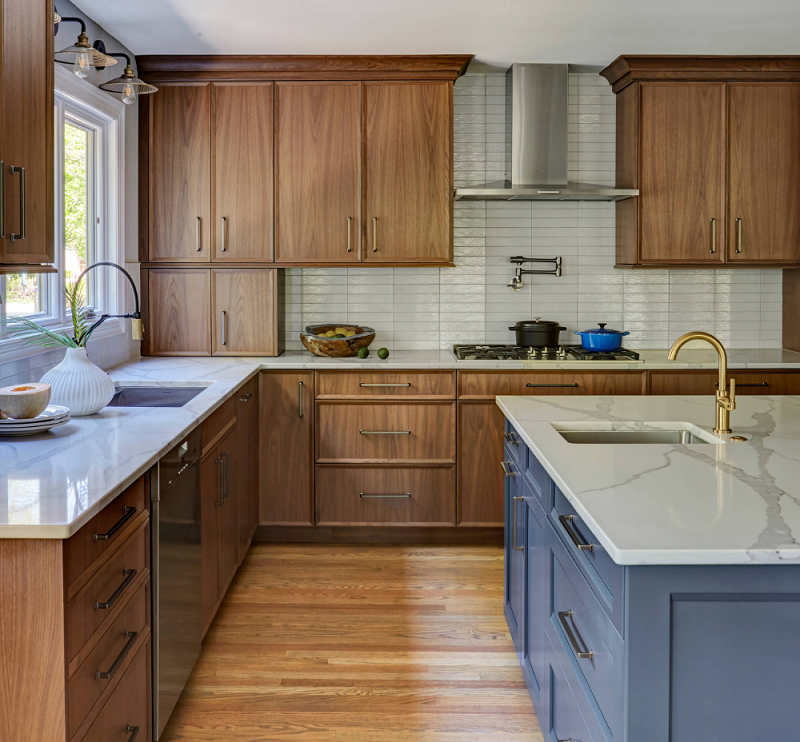 If there is one wood that surpasses all others and is frequently used because of beautiful texture then it is probably walnut. This is natural wood that brings warmth, elegance and is the perfect wood for lively kitchens. Walnut is a great combination of tones like blue, white, gray, etc. to create an emotional and modern space.
Gentle white color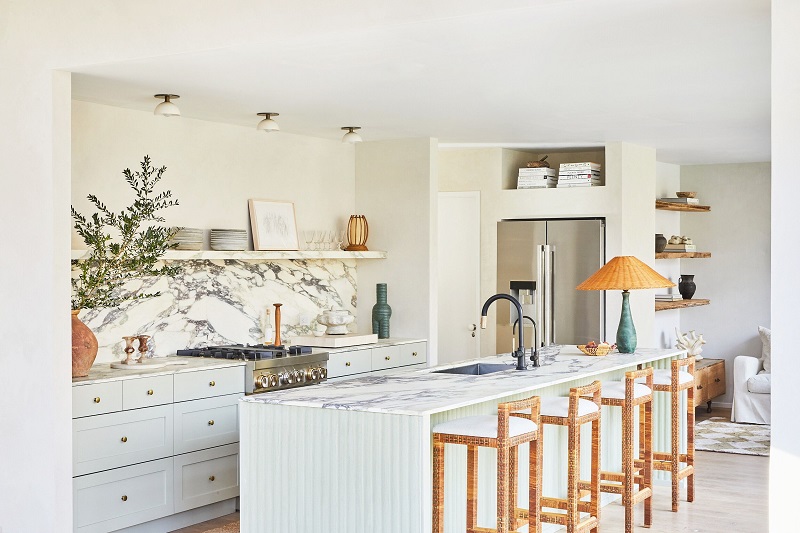 A word to describe the kitchen palette in 2020 is soothing, in this kitchen, light gray cabinets are combined with industrial-style iron and bright marble table tops to create youthful appearance.
Using stones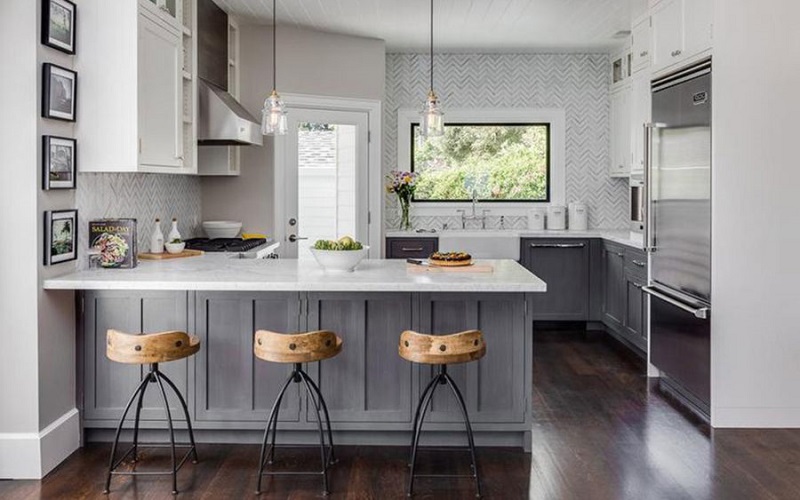 Stone is frequently used in kitchen interior design; especially quartz seems to be getting more attention. The kitchen that is designed with stone for the top of kitchen island is impressive.
Multifunctional kitchen island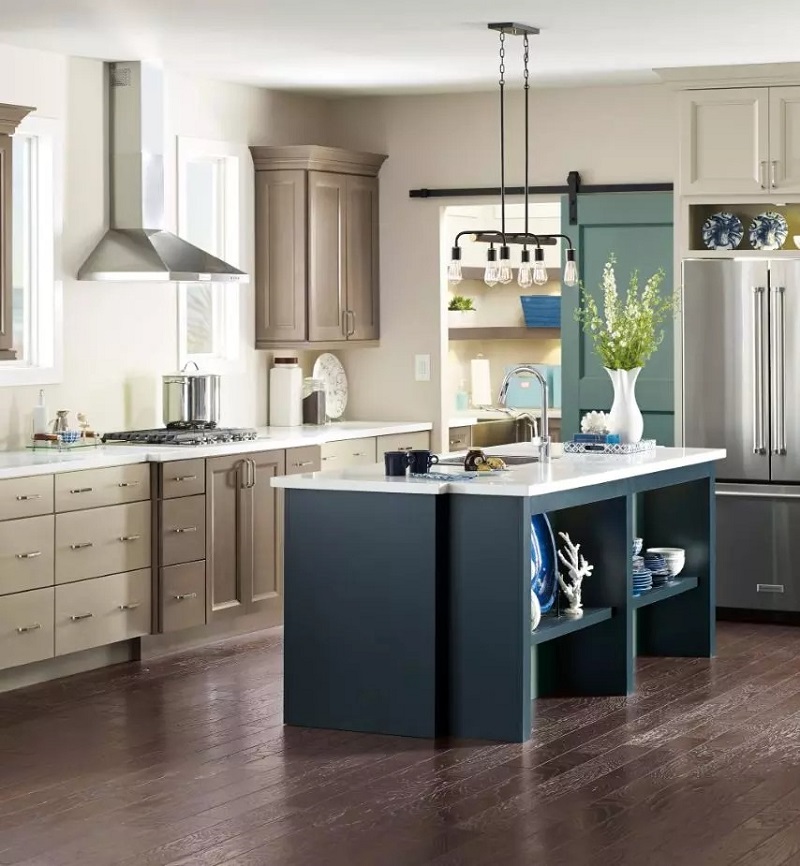 Kitchen islands are nothing new, but they are definitely developing, nowadays, many homeowners not only use the kitchen island as a storage place, we will see the kitchen island getting bigger and more functional.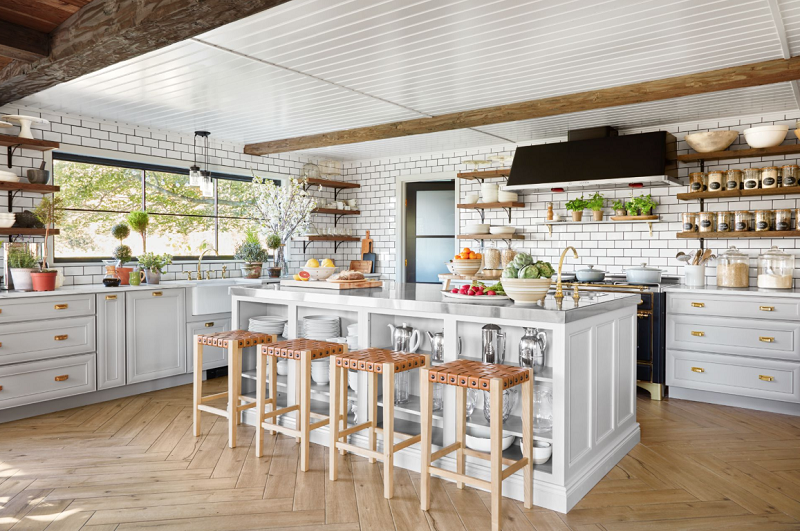 The kitchen island has gradually become a multifunctional position in the kitchen, creating many different areas for cooking, pre-processing and cleaning. And this also means that when someone is cooking, he/ she will face the kitchen island where guests and family can sit instead of using the boring walls.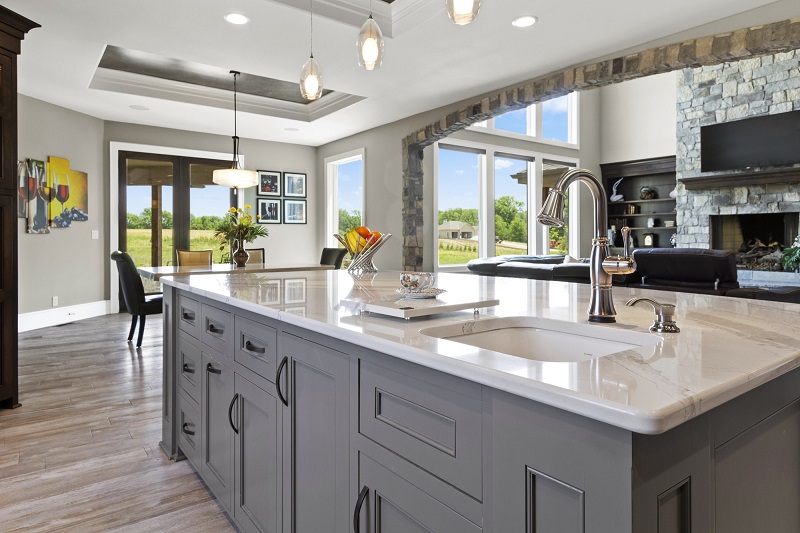 The area includes a table with the height of a bar, preparation area, cooking area, and storage of food and drinks.
Kitchen island end cap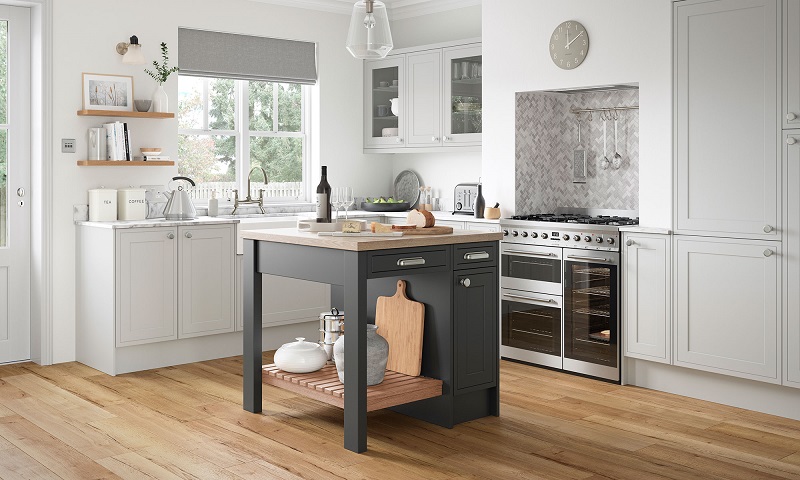 The kitchen island end cap will be more functional, many kitchens have places to store food as drawer type, as shown in the kitchen.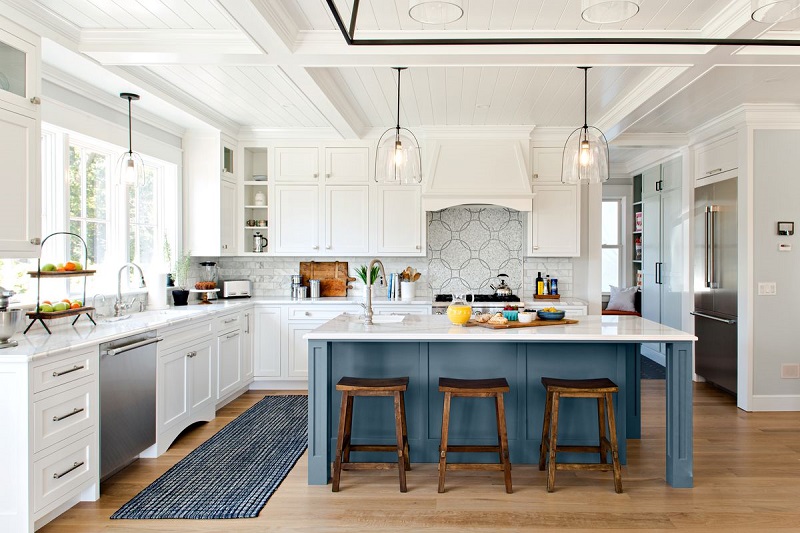 The kitchen island is compact, the space underneath can hold items. This function is quite popular because they allow family members to be tidy.
If you are looking for a strong visual impression, creative color blocks will bring a very interesting experience. The colors, materials which have never lost their charm, are now moderner, sharper and have stronger personality. Please contact BellaHome for consultancy.
Showroom: 111-113 Nguyen Co Thach, Sala Urban area, Thu Thiem, District 2
Hotline:(028)22534777-22536777.